College students typically jump to mind when we think about the uses for modular dormitories. However, these dorms can provide living quarters for employees when they are working in a remote location. They can be used as military barracks, modular man camps, retreat centers, campground staff housing, and anywhere else you require flexible, functional living spaces with the comforts of home.
Factory-made modular dormitory buildings have a variety of uses for both temporary and permanent housing, but they can be designed, built and delivered at least 40% faster than conventional stick-built structures. While the foundations, site preparation (e.g., utilities) and landscaping are being completed, the modules are simultaneously being designed, engineered and manufactured in the factory to your specifications. They are then transported to and assembled on your site quickly to meet your strict occupancy deadlines. Modular structures are at least 20% less expensive to build as a result of stringent factory processes and fewer wasted materials. From start to finish, you can create the budget-friendly living space you need in just a few months.
Prefab modular dormitories are highly customizable and available in an unlimited number of floor plans and designs. They are scalable, which enables you to add on additional structures as your student body or workforce expands. Single and multi-story modular dorms can be designed to suit any conceivable purpose, with exterior finishes such as brick, stucco and other architectural surfaces. In fact, they are hard to distinguish from conventionally built structures. Modular dorms are adaptable to fit any site and meet or exceed local building, safety and occupancy codes.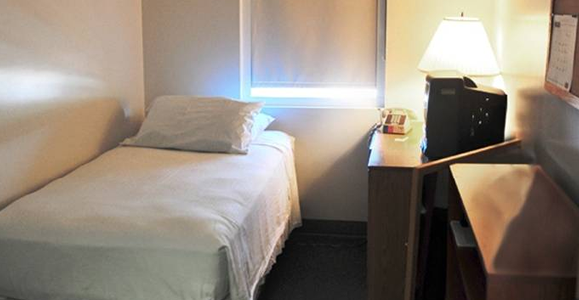 Interiors of dorms and modular school buildings can be configured with everything from bedrooms (single or multiple), bathroom/shower facilities and kitchen areas, to common areas, such as study or meeting rooms, fitness centers and laundry facilities, or recreational spaces, such as game rooms and TV lounges. Provide luxurious, well-appointed apartment-style suites for executives, functional modular military barracks, comfortable living and working space for students or bunkhouses for your remote workforce.
Modular buildings have become increasingly popular due to their attractive architectural designs that are compatible in any environment, as well as their high quality, flexibility, speed of completion, substantial cost savings and reduced environmental impact. There is literally no type of building that cannot be designed and manufactured in a modular manner. If you need to add living quarters in any environment, public or private, prefab dormitories give you the ability to save money on construction costs without sacrificing design and quality.
Modular Genius has extensive knowledge and experience with all types of modular construction. In 2013, they received an Award of Distinction from the Modular Building Institute in the category of "Relocatable Commercial Housing over 10,000SF" for the fire house sleeping quarters they designed and constructed on a U.S. government site, and have won many other awards for their work.
With manufacturing facilities throughout the United States, Modular Genius can manufacture your durable, modern modular dormitories as close as possible to your location, which will further reduce your costs, and their experienced, customer-centered team of engineers and technicians will help turn your living space requirements into a reality.