From medical and dental clinics to research laboratories to community hospitals, health care organizations can enjoy a higher return on investment, reduce costs, accelerate construction timelines, and see more patients with modular hospital buildings.
Modular construction is significantly faster and less expensive in comparison to traditional stick-built construction. Whether you are expanding your current healthcare facilities or branching out to a new community, modular buildings can help you create state-of-the-art facilities to serve patients, doctors and hospital staff.
Unlimited Applications
Modular buildings can be completely customized to meet your requirements. From digital imaging facilities to medical office space to testing labs to patient rooms, nothing is too large or difficult. This is the quickest way to expand the footprint of your medical center with minimal site and patient disruption.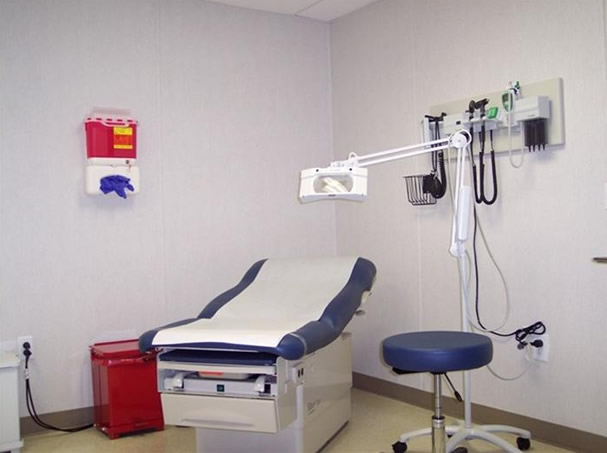 Modular solutions are particularly well-suited for:
Acute Care Treatment Centers
Ambulatory / Outpatient Facilities
Skilled Nursing Facilities
Diagnostic Imaging Facilities
Emergency Room Expansions
Dialysis Centers
Physical Therapy Centers
Rehab Centers
Community Wellness Centers
Pharmacies
Waiting Rooms
Laundry Facilities
Gift Shops and Retail Space
Design them as standalone buildings or as additions to your current medical facilities. An unlimited number of design options enable the modules to blend with the existing look of neighboring buildings.
Advantages of Modular Construction
Healthcare facilities already struggle with how to accommodate new treatments and technologies within tight budgets. Modular designs add a level of flexibility that will help facilities stay ahead of the competition by quickly integrating new technologies and levels of care. Also, avoiding the demolition and patient disruption associated with traditional construction means saved down time and enhanced revenue.
There are distinct advantages to combining onsite and off-site construction. Modular structures are fabricated offsite in a controlled factory environment and are pre-wired, partially assembled, thoroughly tested and inspected before being delivered to your location. This ensures that all components and systems are operating as intended. It also means that your building will arrive on time, on budget and in an 80% to 90% completed state upon delivery.
The turnaround time between design approval and occupancy of a modular building is at least 40% faster than conventional design-bid-build structures and can often be completed in as little as eight to ten weeks. This gives healthcare facilities the ability to meet their growing, sometimes urgent, demands without waiting through a time-consuming, labor intensive construction process, and suffering from lengthy delays from poor weather or site preparation issues.
Sustainability
Today, mandates for healthcare design promote environmental consciousness. The importance of green construction is not limited to its effect on the environment, but also on the health of the people who occupy the structures every day. Research shows that green health care facilities lead to improved patient outcomes and better staff health, but finding affordable solutions and can be a challenge.
Modular construction complies with the highest level of green building standards, including LEED® certification.  Most new modular units are built with recycled steel, making them sturdy, fire-resistant and mold-resistant. The manufacturing process uses less energy and water, and waste is controlled with strict manufacturing controls.
Healthcare customers can enhance their modular buildings with energy-efficient utilities, eco-friendly insulation and no-VOC or low-VOC interior wall and floor treatments.  The U.S. Green Building Council discussed other green targets in its article about Group Health Cooperative's new medical office building in Puyallup, Washington, which became the first in the nation to earn a rating under LEED for Healthcare (LEED-HC).
Consider modular hospital buildings to meet your small- and large-scale space requirements, deadlines and budget challenges. There is literally no type of healthcare building that cannot be designed and manufactured in a modular manner, and you may be surprised at the many benefits they can offer.