Today, companies are not restricted to building expensive stick-built structures to accommodate their sophisticated laboratory requirements. The need for clean, controlled and germ-free designs required by a wide variety of public and private industries – chemical manufacturing, pharmaceuticals, environmental sciences, energy, oil and petroleum, mining, agriculture, marine sciences – can be met with mobile and modular laboratory buildings.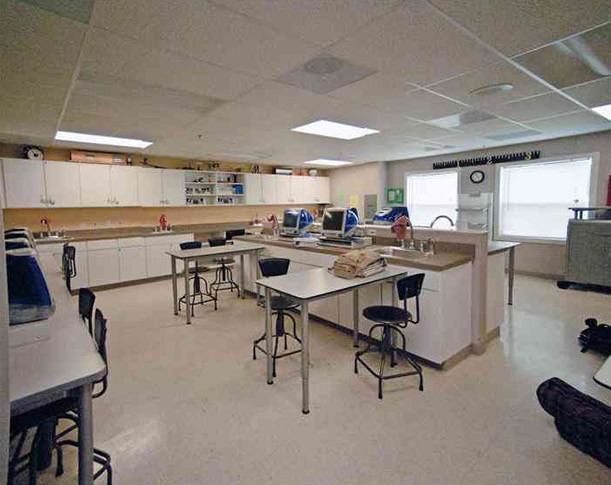 Some of these laboratory applications include:
Bio-containment laboratories
Analytical laboratories
Chemical testing and analysis laboratories
Bio-fuels testing and inspection laboratories
Crude oil quality testing laboratories
Product safety laboratories
Marine laboratories
Environmental assessment laboratories
Contamination analysis laboratories
Mining laboratories
Agronomy and soil science laboratories
Modular Bio-Containment Laboratories
Bio-containment refers to the containment of infectious bacteria, viruses, and toxins. These dangerous pathogens must be isolated to prevent the accidental infection of scientists, laboratory workers and the facility itself (primary containment) or release of the materials into the environment (secondary containment). Modular bio-containment labs can be mobile or modular. The buildings are designed with single or multi-room options and equipped with proper storage containers and biological safety cabinets. Additional features may include water and mold-resistant materials and vaporized hydrogen peroxide quick evacuation systems.
Modular Marine Laboratories
Marine laboratories focus on the research of ecologically important coastal and marine issues, such as fish habitat, biodiversity, watershed studies, and evaluation of the environmental consequences of oil and gas spills.  They can be mobile or modular, and may require work space for on-site science and administrative staff, research and classroom space, as well as greenhouses and environmental chambers.  Many marine labs feature elaborate seawater systems or tank configurations with holding tanks and sophisticated filtration systems. Modular construction is a smart and fast way to construct or expand marine laboratories because it offers unlimited design and floor plan options.
Mining Laboratories
Mining laboratories encompass a variety of services from mineral preparation and analysis, mineral and ore assay, groundwater analysis, soil analysis, air emissions testing and more. Many of them operate in remote locations and in harsh environments. Modular mining labs are an ideal solution because they can be quickly configured with office space, classrooms, laboratories and technology while providing a controlled workspace suitable for complex analytical instruments. They can be built to rigorous specifications and can be easily relocated from one mining site to another.
One of the most complex components applicable to all of these modular or mobile laboratories is the HVAC and air filtration systems that are necessary for both safety and security. Requirements include fume hoods with efficient controls to deal with fluctuating temperatures and pressure. Modular laboratory equipment can be engineered with superior materials that provide the proper level of controls, comfort and energy efficiency.
Other benefits of modular construction over traditional construction include the ability to match the architectural design of surrounding buildings, a strictly controlled manufacturing environment, the capability of dual structure design for an extra layer of bio-security, and an accelerated construction timeline. With proper attention to design and engineering, modular laboratory buildings can be the ideal solution for both all types of laboratory applications and can be utilized as stand-alone labs or connected to existing facilities.