Modular buildings are ideal for use as temporary or permanent law offices, real estate offices, customer service centers, bank facilities, health clinics and labs, classrooms and complete school campuses, daycare centers, church facilities, restaurants, warehouses and industrial facilities, to name just a few.  There is literally no type of commercial building that cannot be designed and manufactured in a modular manner, and Modular Genius has the knowledge and skills to meet your small- and large-scale space requirements, deadlines and budget challenges.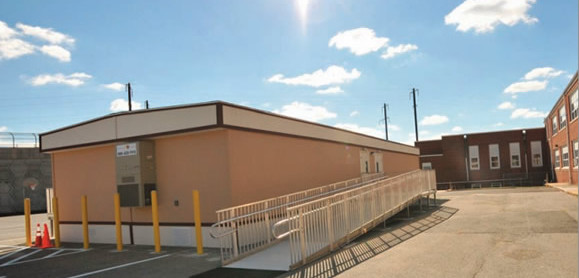 Conventional construction is expensive, time-consuming, labor intensive, and susceptible to lengthy delays from poor weather, site preparation issues and other headaches. It's not unusual for expenses to spiral out of control or for the work to take much longer than you anticipated. Prefabricated buildings, on the other hand, are quick to complete (about 40% faster than traditional design-bid-build construction), extremely flexible and cost-effective, and are available in countless architectural designs that will fit nearly any commercial, industrial, institutional, or government environment.
With facilities throughout the U.S., Modular Genius manufactures modules as near as possible to your building site to help you meet rigid deadlines. When the modules leave the factory, they are about 90% complete and have been engineered so that stairwells, water lines, heating and air conditioning, electrical lines, and other systems are already in place. In a matter of months, modules can be transported to the building site and connected in sections, like building blocks.
Aside from the off-site construction of prefabricated modules, Modular Genius' experienced team of designers, engineers, project managers and field superintendents can also serve as the general contractor for your project. They can monitor and direct delivery, installation and finish work, including:
Civil engineering, permits and zoning services
Architectural design and drawings
Construction site supervision
Foundations and preparation of the building site (grading, utilities, etc)
Material and vendor sourcing
Masonry and other interior/ exterior finishing
Custom doors, windows and hardware
Concrete or metal ramps and stairways
Gutters and downspouts for moisture protection
Paving of sidewalks and parking lots
Landscaping and signage
Installation of office furniture/workstations
Relocation services
Modular construction also complies with the highest green building standards, including LEED® certification.  There are lots of benefits of green building benefits. Most new modular units are built with recycled steel, making them strong, fire-resistant and mold-resistant. The manufacturing process uses less energy and water, and waste is controlled with strict manufacturing controls. Because most of the work occurs away from the construction site, the noise, dust, debris and carbon dioxide emissions from vehicle traffic are greatly reduced. Customers can also enhance their prefabricated buildings with energy-efficient utilities, eco-friendly insulation and no-VOC or low-VOC interior wall and floor treatments.
Modular Genius specializes in high-quality design-to-occupancy modular buildings. They offer highly customizable floor plans with an unlimited number of designs and styles to meet your design requirements. Their modular structures are virtually indistinguishable from conventionally built structures and can be designed to complement the surrounding environment with exterior finishes such as brick, stucco, and vinyl siding, along with custom architectural features. Contact them today at (888) 420-1113 to put your ideas into action.